Provide Locum Insurance and Overheads Insurance for your clients
Locum insurance and overheads insurance for your clients. And outstanding service for you.
Whether you're advising GPs, dentists, vets, opticians or allied health professionals, your focus may well be on pensions or investment planning. However, when you are discussing financial protection with either GPs or fee-earning business owners, you'll want to include recommendations for locum insurance and overheads insurance: a key part of their contingency planning.
In both cases we work very closely with you to make sure your client gets the best price on the right level of cover for them. That's because we like to provide both IFAs and their clients with the outstanding level of service for which we are renowned.
Why so many IFAs recommend Practice Cover to their clients
Around 50% of the business we write comes through IFAs – for good reason. When you recommend Practice Cover locum insurance and overheads insurance you can be sure your clients get:
a top level range of cover
a flexible menu of benefits so that you can tailor their cover to their budget and circumstances
keenly and sustainably priced cover.
And, of course, we pay commission. We can provide testimonials from IFAs who love our service... like this: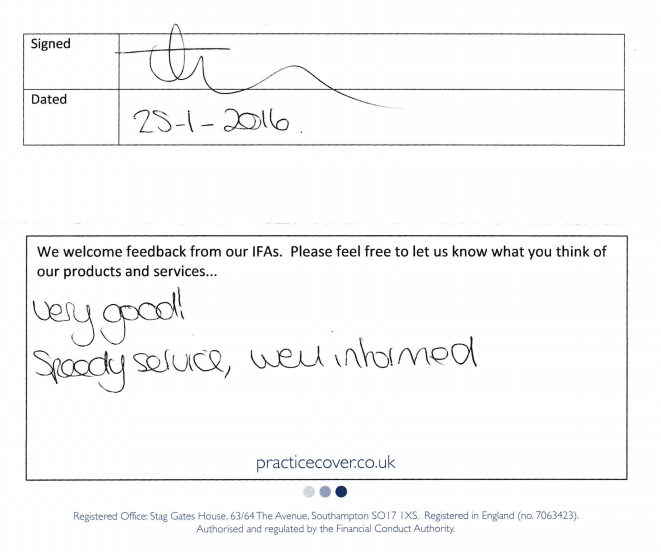 Why IFAs like working with us
Increasing numbers of IFAs choose Practice Cover because we tailor our service to them. So when you come to us for a quote we'll:
discuss your client's needs with you
help you to draw up your recommendations
provide you with tailored quotations
help you sort through the confusion when comparing quotes from other insurers.
Our commitment to supporting IFAs means that, whether clients come to us direct or via an IFA, the price is the same. Your clients will NOT be able to get a better price from us by coming direct.
Listen to our Podcast for IFAs
Next steps
If you know exactly what you need, just click on the appropriate link in the menu on the right of the screen, fill in the details and we will get back to you with a quotation as soon as we can.
If you'd like to talk through any aspect of locum insurance or overheads insurance, or request a quotation, please call us on 023 8051 3286 or 0800 028 5633. Or, if you email us at This email address is being protected from spambots. You need JavaScript enabled to view it. we'll be happy to call back at a time that's best for you.
Terms of Business
You will need a Terms of Business to place your clients' cover with us. This sets out, amongst other things, the rate of commission we pay. If you haven't yet set this up, or are unsure, just mention it when you call. We can either set the wheels in motion or let you know that an appropriate agency is already in force.